BOWHUNTERS MAKING A DIFFERENCE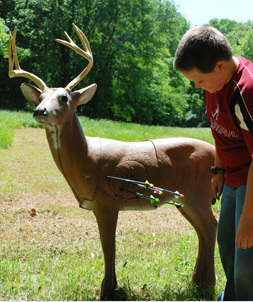 Bowhunters of Alabama
(BHA) and the
Breast Cancer Research Foundation of Alabama
(BCRFA) have come together to bring you the 6th annual "
Bow-Up Against Breast Cancer"
3-D Archery Tournament benefiting the BCRFA. Every one of us in some way or another has personally been affected by cancer. Our goal as archers, bowhunters and Alabamians is to generate funding for cancer research through our great sport of
ARCHERY
so one day a
CURE
for cancer can be found.
Advances in breast cancer research over the last 30 years have increased survival rates from 4 deaths out of 5 patients to only 1 death in 5 patients. This extraordinary
RETURN ON INVESTMENT
is thanks to the work of the best and brightest researchers and the generosity of generations before us who funded the research.
NOW IT'S OUR TURN.


The Breast Cancer Research Foundation of Alabama was formed in 1996 with the goal of infusing additional funding and expanding breast cancer research and facilities at the UAB Comprehensive Cancer Center.
With community support from corporations and individuals, the foundation has raised over $6.75 million for cutting-edge breast cancer treatments to help end this devastating disease. UAB has been able to generate over $90 million in grant funding from "seed money" provided by the BCRFA, which has been instrumental in breakthrough treatments that are now reaching women across the United States and around the world. The Foundation Board and an army of tireless volunteers, many of whom are breast cancer survivors themselves, have galvanized their resources in the ongoing effort to find a cure for breast cancer.
For more information, email us at:
bowhuntersofal.vp@gmail.com
---
---
BCRFA
Beth Bradner Davis

Executive Director

Breast Cancer Research Foundation of Alabama

Office:

(205) 996-5463

Fax:

(205)975-5040 (please call this number before faxing)

web: www.bcrfa.org Mailing Address:

Breast Cancer Research Foundation of Alabama

P.O. Box 531225

Birmingham, AL 35253

BOW-UP
Cameron MitchellEvent Directoremail: Cameron@wildsheep.orgOffice:

(205) 674-0101

Fax:

(205) 674-0190

Cell:

(205) 616-0058

web: www.bow-up.org Mailing Address:

P.O. Box 310727

Birmingham, AL 35231